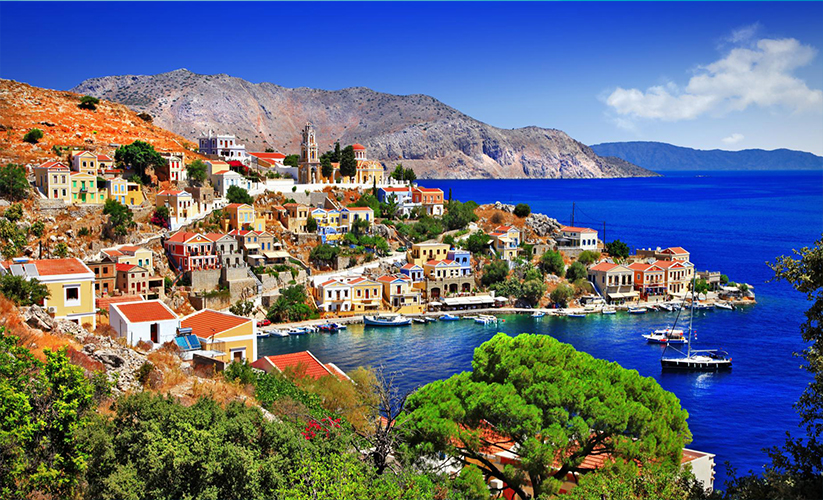 ---
About
This 3 day private gulet cruise departs from the Greek island of Rhodes, and explores the island of Symi. Symi is ideal for yacht cruising, as it is largely untouched by mainstream tourism. The steep coastline offers many peaceful inlets and small beaches, with warm crystal-clear waters, backed by pine trees.
This itinerary is indicative, and can be adjusted according to your wishes and weather conditions.
Day 1 – Bozburun, Nanou Bay, Thessalona Bay, Pedi Bay
Boarding around 10am, your gulet departs from one of the harbours in Rhodes town. We will first call to Bozburun on the nearby Turkish peninsula to complete immigration formalities*, then continue to Symi island. On reaching the island, we'll start with Nanou bay, a wide pebbly beach with a roaming population of goats. The clear water is excellent for snorkelling.
Later in the afternoon we might move to narrow Thessalona Bay, accessible only by boat, with dramatic steep grey cliffs on each side.
In the evening we will continue to Pedi Bay. This long narrow inlet has a small sandy beach with trees behind, a few quiet taverns, and still clear waters to bob up and down in. Here we will find a secluded spot to moor overnight.
Day 2 – Agia Marina Bay, Symi Town, Nimou Island, St. Emiliano
You may like to start this morning with a visit to Agia Marina Bay, with its distinctive rocky islet at the mouth of the bay offering excellent visibility for snorkelling.
Continue on to Symi Town, the only significant settlement on the island. Built around the harbour, its colourful 19th century neoclassical mansions date from a wealthier era, when wooden ship-building and sponge-diving were important activities on the island.
After lunch, we will head north through Nimou straits, perhaps stopping to explore either of the uninhabited islands of Nimou or Chondros.
Before sunset we will moor at St. Emilianos Bay, on the north-west coast. The whitewashed monastery of St. Emiliano is built on rocks connected to the mainland by a stone causeway.
Day 3 – Agios Vasilios beach, West Coast, Panormitis, Rhodes
Today we will explore the inaccessible west coast of Symi. There are few beaches, but many small unnamed inlets with steep cliffs. Agios Vasilios beach is an idyllic spot for lunch, with a pebbly beach with a few cypress trees, hemmed in by rocky cliffs.
After lunch we will sail to Panormitis Bay, a large bay almost completely enclosed from the sea. A large 18th century Venetian monastery dominates the bay. It is still active today and is a place of pilgrimage for Greeks. The monastery is dedicated to the archangel Michael Panormitis, patron saint of sailors in this region. The original church inside the monastery grounds is thought to date back to 450AD, and may be built on a pagan pre-Christian site.
In the mid-afternoon we will leave Symi behind, returning to the harbour in Rhodes at approx 6pm.
* Note: like all gulets, ours are registered as Turkish vessels, so cruises beginning and ending in the Greek islands must call to a Turkish port during your trip. We do this at Bozburun, which is a small harbour located on a remote peninsula, and a scenic location in its own right. Your captain will take care of immigration formalities in less than an hour, and you are free to explore the harbour and surroundings while you are here.