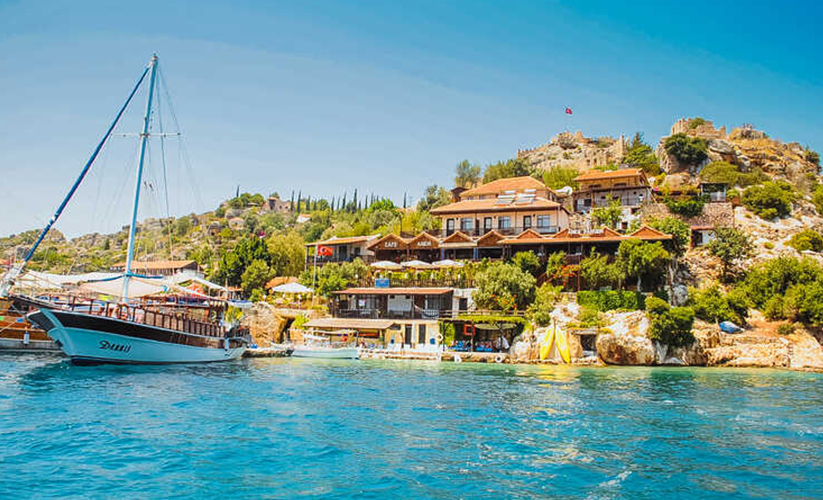 ---
About
A Kaş Gulet tour offers you everything you might want in a holiday and more…Days of relaxing on deck, swimming in transparent blue waters, wandering over Byzantine ruins, snorkelling in caves, sunbathing in secluded coves and, for the more adventurous traveller, paragliding over the imposing Taurus mountains.
There is room for rest but no room for boredom during our specially tailored week designed to show you the best that this coast has to offer.
Day 1 – Kaş
You'll be welcomed aboard where you will meet the crew and be briefed on the week's itinerary. We'll overnight aboard the gulet in Kaş harbour, giving you a chance to enjoy the Kaş nightlife.
Day 2 – Çoban Beach, Ufakdere Cove
After a delicious Turkish breakfast of olives, cheese, tomatoes, cucumbers and fresh tea we'll slowly take off down the coast in the direction of Çoban Beach. Here you'll have the first swim of the day in its divine waters. Next we'll laze our way over to Ufakdere cove where we'll spend the night overlooked by a blanket of bright stars.
Day 3 – Uluburun, Aperlai
After breakfast we'll cruise over to Uluburun where the oldest shipwreck in the world, a Phoenician trading vessel, was discovered by sponge divers in the '80s. You can cool off with a swim and a snorkel here while working up an appetite for our tasty Mediterranean lunch on deck! Following lunch we'll head over to Aperlai Cove for the night. Aperlai was one of the main cities in the Lycian Confederation and today is peppered with Byzantine and Roman ruins which are open to visitors.
Overnight in Aperlai.
Day 4 – Kekova Island
After breakfast you can laze on deck and catch some rays or, if you're feeling adventurous, you can snorkel above the ruins of Aperlai, the only area of these ancient ruins where we can do so.
Post-lunch we'll begin cruising to one of the ancient jewels in the region, Kekova Island. Kekova is astonishing because of its semi-submerged Lycian and Byzantine ruins, brought about by an earthquake in the 2nd century BC. The area is heavily-scented with wild oregano, from which Kekova gets its name. Because the area is protected swimming is not allowed here, but sailing around and viewing the ruins underneath the water is a unique experience.
Overnight in Kekova.
Day 5 – Kaleköy Village, Simena Castle, Gökkaya Bay
After breakfast we will make our way to Kaleköy village, perched on a steep hillside and accessed only by sea. Here you can visit well preserved Lycian, Roman and Byzantine ruins including Simena castle which houses a Roman amphitheatre, which is reported to be the smallest in the world. Sated after a Mediterranean lunch onboard, we'll begin sailing towards the evocatively named Pirate Cave and overnight in the intricate bays of Gökkaya.
Day 6 – Limanagzı Bay
After breakfast we will visit some more idyllic islands nearby for swimming and snorkelling. With the afternoon sun overhead we'll then anchor in the ancient Limanagzı bay for more swimming to cool off and have a bite to eat. While lazing on the boat after lunch you can look up and see the Lycian tombs in the cliff edifice overhead. A trail leading to Kaş is located above, a part of the waymarked Lycian Way which stretches 500km along the coast of southwest Turkey.
Day 7 – Free day in Kaş
This is your free day to either kick back or get active. Kaş has something for everyone. You can enjoy a scrub-down in a hamam, go diving, or just sip tea and while the hours away in one of its lovely tea gardens. For the shopper in you, there are wide variety of Turkish handicrafts, designer clothes , shoes, jewellery, antiques and souvenirs to choose from. For the more adventurous there is the opportunity to go diving or do a paragliding jump from a start point of 600 metres above sea level. The flight gives you a majestic view over Kaş harbour and the surrounding islands. A day in Kaş is one to be savoured!