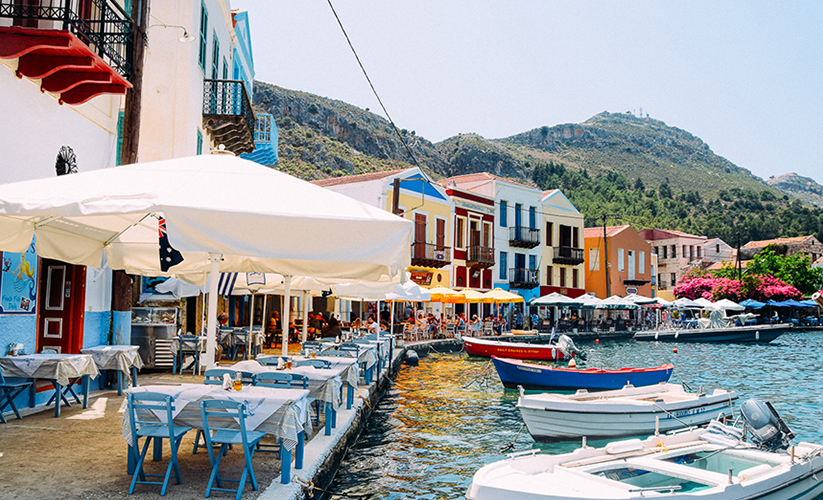 ---
About
Exclusive daily boat tour from Kaş harbour to the Greek Island of Meis (Kastellorizo/Meis).
Maximum 12 guests allowed. Captain Osman Muslu by SELIN-3 Boat.
This day cruise from Kaş harbour visits the Greek island of Kastellorizo (called Meis in Turkish).
Kastellorizo is the most easterly island of Greece, 125km from the next island, Rhodes, but just 6km from Kaş.
Meis islanders have a strong connection to Kaş, they visit Kas each Friday to buy fresh fruit and vegetables in the local weekly market.
On the day of your boat trip you will be collected from your accommodation in Kalkan at 09:00 am and transported to Kas harbour costoms and pasaport control.
Typically the boat will depart from Kaş harbour at around 10:00 - 10.30am.
Breakfast will be served on the boat.
10:30-11:00 Meis island for arriveing costoms and passaports control.
We will then sail to the Blue Grotto cave arriving at approximately 12 midday.
The Blue Grotto (Blue Cave) is the natural highlight of Kastellorizo. It is located on the south eastern coast of the island and is only accessible by sea. The narrow cave entrance, set into a cliff, is barely 1 metre above the water, so guests can either swim inside or be transported by a zodiac.
Once inside the cave, it opens up to a startling 83 metre long cavern. The morning sun filters inside through the sea, giving the cave an unworldly atmosphere, it is beautiful.
After the Blue Cave we will head north and then stop at a cove known as Mandraki Bay arriving at 13:00pm. This steep-sided inlet is an ideal spot for a shipboard barbeque lunch, prepared whilst you relax on the sunloungers or take a cooling dip.
After a delicious lunch we will head to Agios Georgios (Saint George Beach) at around 15:00pm.
We will then sail east of Kastellorizo, where you will see a very small island and a tiny church, St. George.
This wild green headland with its tiny rocky beach is the perfect place to enjoy a slow afternoon, eating fresh fruit, Turkish tea or sipping a glass of wine or a refreshing beer.
In the late afternoon at 16.30pm we will make our way to Meis habour.
You will have free time to explore the beautiful Meis harbour Island and you can also enjoy dinner in any of the Greek Restaurants (dinner is not included in the price of the trip).
Typically we will depart from Meis harbour around 21:30pm.
We will arrive back at Kaş Harbour around 22:00pm.
This Kastellorizo day trip starts and ends in Kaş harbour.
Note: currently Turkish citizens need a valid Schengen visa (or green passport) to visit Meis. For the last few years, 15 day visas-on-arrival have been available for Turkish citizens to visit the Greek islands. Please contact us for the latest information on arranging visas.
You will definitely need your passports with you for this trip.
The price of this day trip is 90 euro or £80(pounds)
This day trip includes:
Breakfast, Port taxes, Hot drinks, Water, BBQ lunch with mezes on the boat & Private transfer from your accommodation to the boat and return.
Tea, Coffee, water Included (alcohol is extra).
You can use the Equipment on board,
Snorkells, Masks,
Sea shoes, Fishing lines.
Wifi internet available
Canoe
Paddle board
Drone
Dinghy
To reserve your place please contacted me on my WhatsApp number:+905325407040
Please remember to bring sun lotion and towels to use after swimming.
Thank you. I will look forward to seeing you!