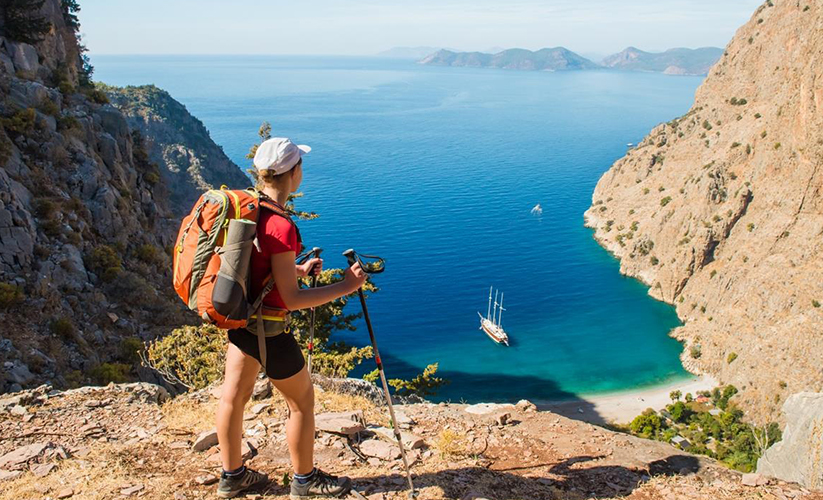 ---
About
Hike the Lycian Way along the coastline between Kaş and Demre, with a cruise lifestyle onboard our gulet at the end of each day.

The Lycian Way is a 500 km hiking trail along the Mediterranean coast between Fethiye and Antalya. In places it climbs high in the gruelling Taurus mountains; but between Kaş and Demre it closely follows the rocky coast, and this less strenuous section is suitable for a wider range of fitness levels. At the same time these sparsely-populated headlands have few options for supplies and water.
Our hiking cruise allows you to leave your backpack behind while you hike, and relax in comfort at the end of each day. After you start in the morning (with trail guidance from Captain Osman), the boat will travel to the arranged meeting point. In warmer weather you might meet the boat for lunch (and a cooling dip and rest in the shade). Or if you want to cover the full daily distances described by Kate Clow, you might prefer to take our packed lunch and meet later.
Of course the gulet is also your backup if the weather turns rainy or in case of blisters. And for keen hikers with a less enthusiastic family, the other members can enjoy the same spectacular scenery – from the comfort of their mobile sun lounger.
Either way, at the end of the day you have all the comforts of our boat; a delicious prepared evening meal, an inviting dive into the cooling waters (and a hot shower!), perhaps an evening drink then a comfortable bed.
Below is a sample itinerary – each day can vary depending on the weather and your energy levels, and wind and wave direction influence where we can moor for a comfortable night's sleep.
Day 1 – Kaş to Üzüm Iskelesi
After boarding the gulet at Kaş Harbour, you may decide to skip the hill out of Kaş and enjoy the first short leg at sea. From Büyük Çakıl beach the road soon leaves the last houses behind and becomes a proper hiking trail, crossing a fairly flat plain until the descent down rocky steps and past a cliff-face tomb, to Limanağzı beach, where you might decide to take early lunch (2 hrs).
From Limanağzı you'll head inland across a farming valley, through some welcome shade before emerging on the far side of the headland with the waves pounding below. Cross a bare expanse of volcanic rock to windswept Çoban beach. Cross another headline and gently descend to peaceful empty Ufakdere bay, another ideal resting spot. Or push on for another hour or so until a couple of tiny islands signal your arrival to Üzüm Iskelesi.
Day 2 – Üzüm Iskelesi to Aperlai
Today's hike heads inland and uphill to the ruins of Apollonia. This Lycian city is less well documented than Patara or Xanthos – and its remote location means it is untouched by modern tourism. The final climb off the main trail to Kale Tepesi ("Castle Peak") is steep but worthwhile, not just for the panoramic views over the coastline, but for the substantial ruined city, including a Lycian amphitheatre and necropolis, and later Byzantine fort and church.
After passing Kılıçlı the trail descends towards Aperlai, another ruined Lycian city scattered over a wide area and so far unexplored by archaeologists. The steep-sided peninsula is barely connected to the mainland by a narrow strip of land, mimicking Kekova Island further down the coast. And like Kekova, a ruined "sunken city" is visible below the clear waters of west Aperlai bay – but there are no convoys of day trippers passing by. The east bay contains a little wooden jetty attached to a tiny cafe – which happens to be run by your captain's father-in-law.
Day 3 – Aperlai to Gökkaya
An easy couple of hours walk in the morning brings you to the village of Üçağız, which although tiny handles many boatloads of tourists each day. Outside it are the ruins of Teimiussa, and a little further on a ridge you'll find the necropolis of Simena, with stunning views over Kekova Sound. There is also a castle (admission fee) with its own tiny amphitheatre, and below these the charming village of Kaleköy, which is unconnected by roads and is a maze of tiny lanes and steps. Here you'll likely meet the gulet for lunch, and perhaps leave the trail for a couple of hours and cross over to Kekova Island, passing over the sunken city of Simena.
Rejoining the trail at Kaleköy, another couple of hours easy walking brings you to Kamışlık Burun and a waterside "pirate bar". You'll spend the night in one of the many quiet bays around Gökkaya Island.
Day 4 – Gökkaya to Demre
Before starting your hike you may like to explore the island, which has some Roman ruins; and visit the Smuggler's Cave by boat. This watery cave in the cliffs was once used by pirates to store their treasure.
It's just a few hours hike to Andriake harbour at Demre, where after lunch onboard, it's time to leave the comforts of the gulet. Depending on your stamina you might hike upwards via the village of Gürses or take the shorter road route to Myra, on the outskirts of Demre.
Upcoming Open Tours
These are available for individuals or small groups to join. Don't see a date that suits you? Contact us with your proposed dates and we'll see about scheduling another open tour for others to join.