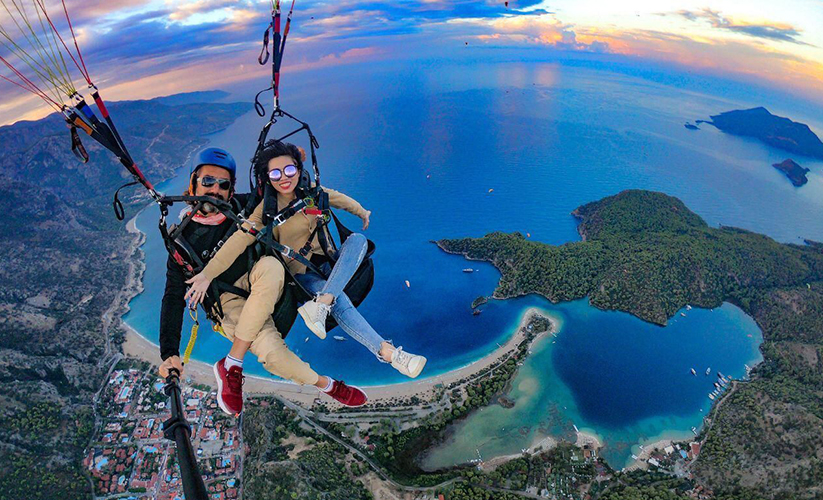 ---
About
Our 4 day Olympos cruise, departing from Fethiye, is a favourite with independent travellers touring Turkey. Take a break from long, hot bus rides and travel in style! Olympos is well-known among backpackers for its wooden treehouses nestled in a shady green valley, among ancient Graeco-Roman ruins which spill onto the beautiful white sandy beach.
We typically offer this cruise as an 'open' cruise, meaning individuals and small groups can join and meet like-minded travellers, at a cost similar to what you would pay for a pension, meals and bus travel. (Of course for larger groups a private charter can still be arranged.)
Naturally you can also take the reverse cruise, Olympos to Fethiye.
Day 1 – Fethiye to Ölüdeniz
Our gulet departs from Fethiye Harbour around 11 am.
We first stop at the secluded Samanlik Bay for swimming followed by lunch. Then we'll cross over to Butterfly Valley, where you'll spot an array of butterflies on your way to the waterfall. Leaving the valley, we'll traverse this wide open bay to Ölüdeniz and the world famous Blue Lagoon. Ölüdeniz is a tourist hotspot in the summer and famous for its paragliding so why not take the leap while we're there?
Our last visit will be to the historical and unspoilt island of St. Nicholas. After some sightseeing and a swim we'll have dinner and enjoy the atmospheric night sky. Overnight here.
Day 2 – Ölüdeniz to Kaş
It will be an early departure at sunrise to an excellent snorkelling spot at Fırnaz Bay. Marine life is buzzing here, so after breakfast you can jump in and enjoy what the sea has to offer. Cruising on to Kaş, we'll lunch in the harbour and leave you time to visit the picturesque town. Kaş has been home to several civilisations including Lycian and Byzantine and the ancient tombs and amphitheatre are worth visiting in the town.
Late in the afternoon we'll meet back at the gulet and head out into the bay for one more refreshing swim, before mooring for dinner in a peaceful cove outside Kaş, where we'll overnight.
Day 3 – Kaş to Kekova
After breakfast we'll make our way to the protected site known as the Sunken City of Kekova where you'll see the partly submerged remains of this ancient city. Following this we'll cruise to Simena, a traditional Turkish fishing village and home to a Byzantine and Medieval ruins including a castle.
We'll then cruise to Gökkaya Bay nearby which is a popular spot for watersports. We'll have dinner and relax or you can party the night away at the Smugglers Inn. Overnight in Gökkaya Bay.
Day 4 – Kekova to Demre (Olympos)
After breakfast we can visit the Pirate's Cave before cruising to Andriake harbour near Demre, arriving there at around lunchtime. Demre holds the spectacular ruins of ancient Myra, as well as the church of St. Nicolas, better known as Santa Claus! You can choose to stay overnight in Demre, giving you time to explore, or if you prefer, transfer directly from the harbour by road to Olympos, arriving in time for sunset.