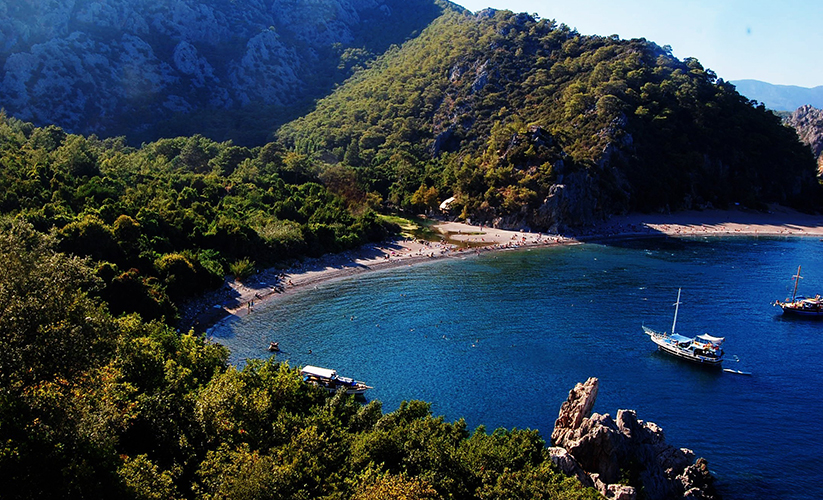 ---
About
Our 4 day Olympos to Fethiye cruise is popular with independent travellers making their own way around Turkey. Take a break from long, hot bus rides and travel in style! Fethiye is medium-sized town with convenient connections to Dalaman airport, by ferry to Rhodes, inland to Pamukkale or westwards along the coast towards Datca penninsula. Alternatively you can leave the cruise early and stay on at peaceful Butterfly Valley (or hike to Faralya or Kabak), or hectic Ölüdeniz.
We typically offer this cruise as an 'open' cruise, meaning individuals and small groups can join and meet like-minded travellers, at a cost similar to what you would pay for a pension, meals and bus travel. (A private charter can be arranged for larger groups if you desire.)
We also offer the reverse cruise, Fethiye to Olympos.
Day 1 – Olympos to Demre transfer, Pirate Cave, Gökkaya Bay
In the morning we'll pick you up from your accommodation in Olympos or Cirali, for the transfer by road to Andriake harbour at Demre. After lunch on board we'll visit the Pirate's Cave before cruising to Gökkaya Bay at the eastern end of Kekova. Swim in one of Gökkaya's many small inlets, or perhaps explore some island ruins. After a barbeque dinner, you might be ready for a drink and a dance at the Smuggler's Inn, a hidden water-side bar in this area.
Day 2 – Simena, Kekova
After breakfast we'll cruise to Simena, a traditional Turkish fishing village and home to Byzantine and medieval ruins including a castle. Following this we'll make our way to the protected site known as the Sunken City of Kekova where you'll see the partly submerged remains of this ancient city.
We'll then cruise to nearby Aquarium Bay, a paradise for snorkelling. We'll end the day with dinner under the stars in one of several quiet coves close to Kaş.
Day 3 – Kaş, St. Nicholas Island
After a morning's refreshing swim, we'll cruise onward to Kaş, where we'll lunch in the harbour and leave you time to visit the pedestrian streets of this picturesque town. Kaş has been home to several civilisations including Lycian and Byzantine and the ancient tombs and amphitheatre are worth a visit.
Late in the afternoon we'll head on to an excellent snorkelling spot at Fırnaz Bay near Kalkan, before mooring for the night at the unspoilt island of St. Nicholas.
Day 4 – Butterfly Valley, Ölüdeniz, Fethiye
Our first stop this morning is at the beach of Butterfly Valley, where a calm, hippyish resort forms a gateway to a secluded natural valley. Moving on, we cross a particularly scenic stretch of coastline to Ölüdeniz with its extraordinary shaped beach. Ölüdeniz is a tourist hotspot in the summer and famous for its paragliding – you can arrange a flight in advance, and land back on the beach ready for departure. Finally we'll stop for a last swim at the secluded Samanlik Bay, before arriving to Fethiye Harbour in time for sunset.